Uthden Troll Cup III
2021-11-05
@
08:00
–
2021-11-07
@
17:00
CET
The next big old school event in Netherlands is celebrating the famous Uthden Troll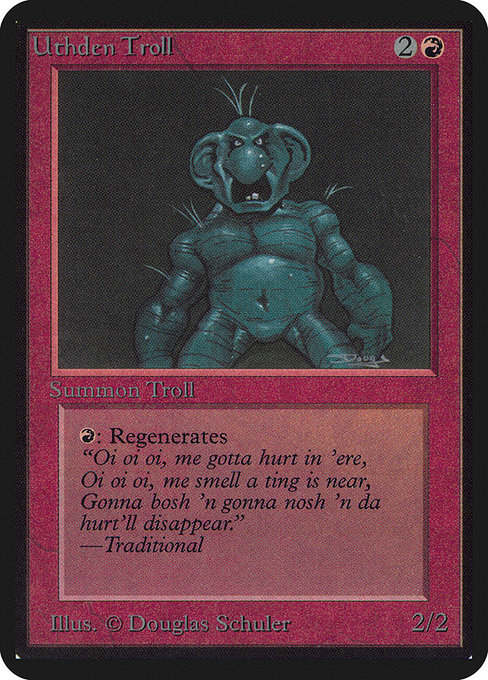 with several tournaments from an awesome Legends draft to "normal" Swedish with reprints. Can't wait to watch the draft on Timmy's stream! Official info can be found under links below.
"Oi oi oi, me smell a thing is near,
Oi oi oi, an irl OS Event, I hear…
Gonna bosh 'n gonna nosh 'n da
trolls'll re appear."
— Traditional

Yes! Uthden Troll Cup is near!
We have a whole weekend of exciting limited and constructed events!
Pack your cards, book your hotels and get over here!

We'll kick off on Friday with a Legendary 1994 draft. Opening a booster box of Legends, Revised and The Dark is already quite special. But having 16 players draft those boosters is pretty insane and you probably will not see that ever again. Can not afford those crazy prices? You're welcome to come and watch if you participate in one of the other events.
EVENT SCHEDULE
Nov. 5: 1994 Legendary Draft € 1000

Legends/ Revised/ 2xTheDark

Nov. 5: 93/94 Rochester draft € 35

Repacked boosters full of 93/94 cards

Nov. 6: OS Swedish b/r € 12,50
Nov. 6: OS Brawl € 5,-
Nov. 7: Premodern € 12,50
Nov. 7: 1995 Boosterdraft € 75,-

4th Edition/ Ice Age/ Chronicles/ Homelands
Each event has it own event under the FB page of Uthden Troll Cup with more detailed information like day schedule, location. Just click the link of the event.
LIVE-STREAM
Cannot come to the event but want to watch it? That's possible. Most events will be streamed by good old Timmy The Sorcerer. Watch his YouTube channel: https://www.youtube.com/c/timmythesorcerer
No guarantees about the quality though, he might get drunk Gordon-Andersson-style 😉
SALES
OS cards sales on Friday and Saturday: PowerNegen
Our Dutch house dealer imported some big Old School nineties collection that he will be happy to sell.
For the Sunday we are currently still looking for a big name seller.
REGISTRATION
For each event you can register via Uthden.troll.cup@gmail.com .
Please do as early as possible as number of participants are limited 56- 74 players depending on the then valid Covid-19 rules.
PRIZES
Each event will have a small price for the winner. Besides that OS Swedish has prices for best spice deck, best unpowered deck and best deck with at least 2 Uthden Trolls main deck. Also there will be something special for the 'Troll of the Weekend"
RAFFLE
There will be a raffle after round 6 of the OS Swedish event. Tickets for the raffle can be bought with an Uthden Troll card (all editions with same art, same frame allowed).
CORONA
We will follow the Corona rules that are then valid.
LOCATION
The location of the Friday events will be announced later.
The Saturday and Sunday events will take place in:
Catshuis Hotel Boutique
Nieuwstad 49
8911 CJ Leeuwarden
The Netherlands
https://www.catshuisleeuwarden.nl
PARKING
Nearest by parking place for the Saturday and Sunday event is Parkeergarage Oldehove (200m)(https://www.parkeergaragesleeuwarden.nl/parkeergarages/oldehove)
HOTELS
Staying overnight in Leeuwarden can be as cheap or expensive as you want. If you want to go budget I can recommend Hotel het Anker which is at walking distance (500m) from the event location You can book a room there ranging from 25 euro to 50 per person per night.
Alibi Hostel located in a former prison is nice as well.
Need more luxury? A very fine hotel within walking distance is the Post Plaza Hotel.
INTERNATIONAL FRIENDS
If you are coming by plane: Amsterdam Schiphol is at a 1,5h drive from Leeuwarden.
There's also a smaller airport at Groningen less then a hour drive from Leeuwarden. Some capitals/big cities in Europe have a direct flight to Groningen airport.
MORE INFORMATION
Check the individual events on FB
Contact Ron Or mail: uthden.troll.cup@gmail.com
Have fun playing!
12,5€
for Swedish tourney, other prices see description
Uthden Troll Cup
uthden.troll.cup@gmail.com